Huntress: Rachel Swafford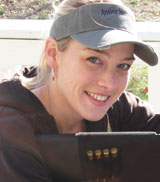 E-Mail: Rachel-Swafford@huntressworld.com - - Read Rachel's:
Hunting Blog
My name is Rachel Swafford.
I am an active woman who enjoys life and trying new things! I live in Florida now and definitely enjoy the sunshine and beach. I love being out in nature whether I am hiking, hunting, or just relaxing with friends. I believe that life is too short to not be happy with what you do!.
I am a model and work promotions for different companies. One of the main things I do is to get hunters in contact with different outfitters. I am on a hunting Pro Staff out of Byron Center, Michigan called Bust-A-Buck. I travel and hunt on film for different companies either for their TV and online shows, or for their promotional DVDs. I am fortunate to have a chance to do what I love to do which is to travel and meet new people and see new places!
I am a huge sports fan and love, love, love football especially the Florida Gators! I enjoy hanging out with family and friends whenever possible! I have a very energetic and fun personality, hence the reason for all of my nicknames which are too many to list.
My grandpa & grandma had a huge influence in my life. My grandpa introduced me to hunting at an early age and taught me many life lessons that I cherish to this day. My grandma practically raised me and taught me how to be a strong an confident woman. I enjoy living life to its fullest. I want to say when I get older "remember when I did this" instead of "I wish I would have done that". I thank God everyday for the blessings that he has given me in life! I look forward to new and exciting adventures and I hope you all will follow along on my journey!
Read Rachel's Hunting and Outdoor Articles below, or Read her Womens Hunting Blog
Click on a photo enlarge it